Posted by Team CTTI on 2023-06-19 07:35:24 | Last Updated by Team CTTI on 2023-10-01 16:27:44
---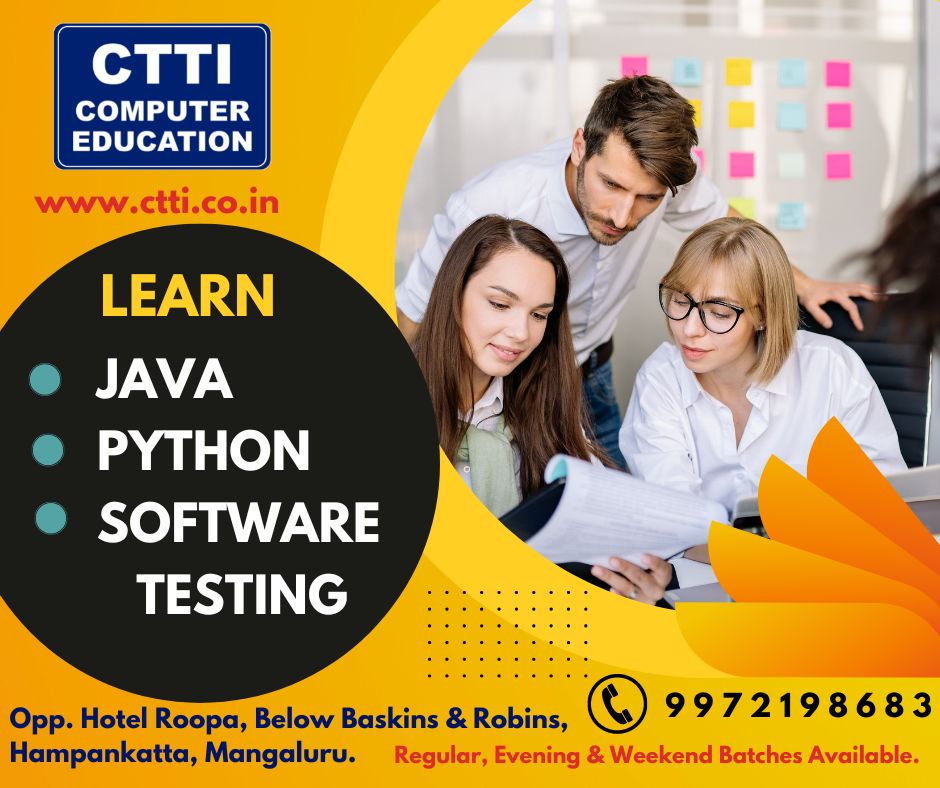 Programming Languages Open Doors to Rewarding Careers at CTTI Computer Education, Mangalore
Introduction:
Programming languages are now the foundation of many lucrative occupations in the digital age. At CTTI Computer Education, Mangalore, we provide thorough courses in C, C++, Java, Python, .NET, and PHP, all of which are intended to provide you the knowledge and abilities you need to succeed in the tech sector. We are the best choice for your programming education path thanks to our ISO-certified institute, knowledgeable professors, and placement aid.
What Makes Programming Languages Important?
The technology that runs our world is built on programming languages. Programming talents are in high demand for a variety of tasks, including constructing complicated software systems and dynamic websites.
Learning programming languages like C, C++, Java, Python,.NET, and PHP can help you pursue a wide range of careers in fields like web development, software development, data analysis, and more.
The employment prospects that result from knowing programming languages are one of the largest advantages. The demand for talented programmers has grown tremendously as technology develops You can access a wide range of wellpaying, occupations in sectors like finance, healthcare, and technology by studying programming languages.
What Makes CTTI Computer Education, Mangalore, the Best?
Experienced Faculty: Our group of knowledgeable experts provides a lot of practical knowledge to the classroom. They are committed to giving students real-world training that is practical and hands-on.
The ISO Certified Institute: We uphold the highest standards of educational quality as an ISO-certified institution.
To ensure that our students are prepared to meet the expectations of the tech industry, our curriculum is created to be thorough and up-to-date.
Placement Assistance: We are aware that finding the ideal position is just as crucial as developing the appropriate abilities. We help our students find rewarding jobs in leading tech businesses by providing placement support.
Affordable Fee and Installment Plan: A good education shouldnt be prohibitively expensive.
We at CTTI make our courses available to everyone by charging reasonable costs and allowing for easy installment payments. Using programming languages for a career: A number of lucrative occupations can result from learning programming languages. Here are a few illustrations:
Software developer: You can create software programmes using languages like C, C++, and Java.
Web developer: Popular platforms for creating dynamic, interactive websites include PHP,.NET, and Python.
Data analyst: Because of its robust libraries and tools, Python in particular is frequently used in data analysis. System Engineer: Jobs requiring low-level systems programming frequently call for experience with C and C++.
At CTTI Computer Education, Mangalore, were dedicated to giving our students the skills they need to excel in the IT sector.
We provide the ideal environment for learning programming languages thanks to our knowledgeable faculty, ISO certification, placement support, and reasonable costs.
Conclusion:
At CTTI Computer Education, Mangalore, we are committed to providing quality education that empowers our students to succeed in the tech industry. With our experienced faculty, ISO certification, placement assistance, and affordable fees, we offer the best platform for learning programming languages. Join us and unlock a world of rewarding career opportunities.